© 1990-2009 36EL Registy. All Rights Reserved.
Printed from: 36el.com/index.shtml on Friday, 01-Dec-2023 08:54:59 EST
---
 
 *************
 ***     ****
 ***    ****
       ****
      ****
     ****
    ** ****
 ***      ****
***       ****
 ***     ****
    *******
 
    ****
   ****
  ****
 ****
*********
***********
****   ****
****   ****
****   ****
  *******
 
**********
**********
****      
****      
*******   
*******   
****      
****      
**********
**********
 
******         
****          
****          
****          
****          
****          
****          
****         *
****        **
***************
 
REGISTRY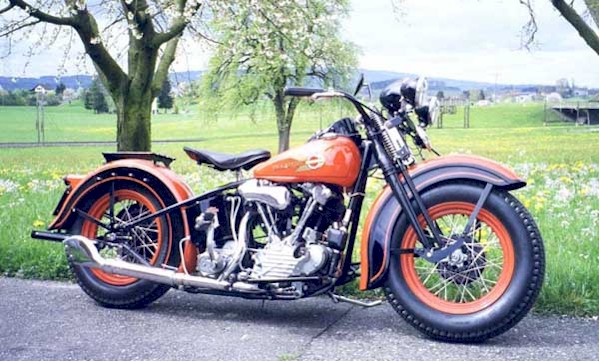 In the Spring of 1936 the Harley-Davidson Motor Company took a big gamble and introduced their new all-overhead-valve 61 c.i. "EL" motorcycle. It was their first bike to use a closed, recirculating oil lubrication system. The gamble turned out to be an enormous winner: a classic motorcycle had been created. By the time 1936 model production ended about two-thousand had been built.
That first year's Knucklehead was the forerunner, the prototype for the 11-year production run of Knuckles and the thousands of OHV Harleys produced since. The 36EL had many features unique to itself, like the frame, gear shifter, and 3-piece crash bar. Because of improvements put into place as production continued, different examples sport two and even three versions of parts that serve the same purpose, like the cam case covers. 5th tranny support brackets and oil tanks.
Now, almost 75 years along, we want to gather together this knowledge of what made 36ELs special, and help the owners and restorers of these bikes do whatever they must to rebuild them as accurately as possible. We also want to document the changes made during the production run: changes which distinguish "early," "middle," and "late" 36ELs from each other.
We are asking 36EL owners to help in this undertaking. In return, we will put you in touch with other owners and with sources of information and the special parts needed to make your 36EL "perfect." We are asking for your active participation, by letter writing and telephoning with information, comments and suggestions which will be the grist for this mill. We will provide the forum, but without input the mill will soon grind to a halt.
Leave us your comments, or send us a letter or your questions or want ads, or write us a letter for inclusion in the next 36EL newsletter. We'll get back to you.
We will need your 36EL's serial number, condition, and if it has factory paint, the color(s). Later on we will be asking owners of original bikes which versions of specific parts they have, to help determine at what points in production the changes were made.
Already in our search we have uncovered two bikes which followed each other down the assembly line: 36EL2356 and 36EL2357. One of these bikes led a hard, hard life. Its engine cases were blown and it sat for years in the weather. All that remains of it are a rusty frame, fork, and miscellaneous parts. The other bike is a fully restored museum piece, occupying a place of honor at the AMA Heritage Museum in Westerville, Ohio.
It's our objective to track down and register every remaining 36EL. If you know of anyone we haven't yet contacted. please put them in touch with us. We will send them a registration form. -Gerry and Lisa